WINDOWS         DOORS        CONSERVATORIES
WINDOWS THAT WONT COST THE EARTH!
With diminishing natural resources and increasing concerns over global warming, its important to choose products that are environmentally friendly – both in the way they are made and the way they perform.
Bespoke Conservatories – Windows & Doors
Roofs
Porch Units
Fire Escape Windows
Wheelchair Access doors
Specialist One-Off Frames
Glass Sealed Units
Trade & DIY Welcome


Available in many colours including colour outside white inside.
Traditional features with all the benefits of modern PVCu
Our white conservatories are the perfect complimentary choice to add to any property with white window frames. They're also the ideal choice for anyone looking to gain the effect of a truly contemporary feel without sacrificing on timeless qualities such as comfort and reliability.
To complement our range of traditional white designs, we also offer a variety of colours, including wood grains, allowing you to enjoy the luxury of a timber-effect finish.
A woodgrain conservatory is ideal for anybody looking to create something different, distinctive and truly desirable. We are also able to accommodate those looking to add a more historical or traditional feel to their homes by offering you an authentic light oak colour.
You can even enjoy a true timber appearance on the exterior of your conservatory, whilst the interior is pristine white to provide a light and airy feel to your new living space.
Whichever colour you choose, you can be assured of high performance insulation, thermal and weathering properties, to increase your comfort for years to come.
Glazing
There is a range of glazing options and a selection of patterns and finishes to further enhance your conservatory living.
If your looking to add character and individuality, our decorative glass options provide you with literally hundreds of designs and styles to choose from, for all areas of your home.
Through catching the suns rays, decorative glass adds jewel like colour to your home.
There are many types of glazing each suitable to your home, for different situations there is a different glazing effects available.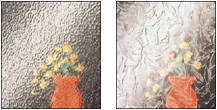 Privacy Glass
Privacy Glass offers various levels of obscurity for those more private rooms. By using this type of glazing your privacy is respected through a decorative piece of glass.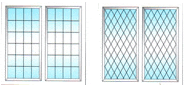 Leadwork glass
Leadwork glass is carefully handcrafted and available in different shapes and sizes. Each window is made to match to inflict a constant flow of design around the house setting it apart from all the others.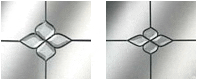 Bevelled Designs
Bevelled Designs are individually hand crafted using slim lined bevelled glass. They can be used to their best effect in personalising your home from another through adding a unique flair and design to your windows and doors.
Decorative Panels
Decorative Panels/"Top Lights" are handcrafted using the modern equivalent of traditional stained glass. With this type of glazing each window or door is free to be as extravagant or as simple as you like.
Georgian Bars
Georgian Bars are available in various shapes and sizes to add a sleek and modern look to your property.
Handles
A variety of window and door handles are available to suit your personal taste as well as add that something extra to your home. Handles come in various styles and colours, including black, white, silver and gold.
GLASS.